Trusted Pest Management For Beachwood, OH Home & Business Owners
Incorporated in 1915, the suburb of Beachwood, OH, is just 20 minutes from Cleveland, and it's a fantastic place to settle down. Our progressively growing city has a population of nearly 12,000 within a little over five square miles. The more people we have, the more reasons for pests to infest our homes and businesses. These unwelcome intruders seek access to food, water, and shelter sources throughout our properties, and that exposes us to the dangers that come with pest infestations.
To protect your Beachwood property from pest infestations, you've come to the right place. The Epcon Lane team is here to protect local homes and businesses from the detriments of pest infestations. Our family owned and operated company has been providing preventative pest control since 1945, and we deal with a wide range of pests. Some of the pest species we deal with regularly include termites, bed bugs, stinging insects, mosquitoes, fleas, ticks, rodents, ants, spiders, cockroaches, and occasional invaders. Call us today for all of your residential and commercial pest control needs.
Home Pest Control In Beachwood, OH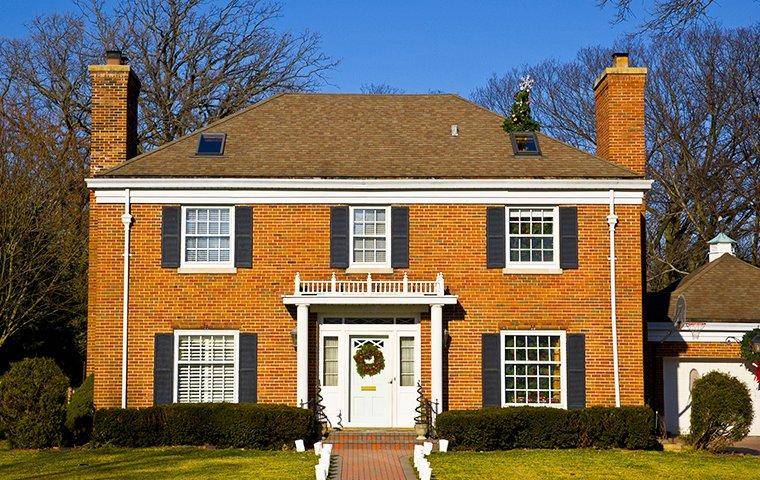 We service homeowners across the northeastern portion of Ohio, providing quality home pest control in Beachwood, OH you can feel good about. During our residential pest control process, we:
Interview customers to discuss their pest issues.

Check the entire interior and exterior perimeter.

Look for holes, entry points, and conducive conditions.

Perform an exterior barrier treatment.

Lay down granules.

Seal up entry points.

Remove webs and nests.
Our team performs additional residential services for stinging insect control, rodent control, and flea and tick control. We also offer complete termite control services and WDI inspections for termites, carpenter ants, and carpenter bees. Get in touch with us today to address your residential pest control needs.
We look forward to keeping you and your loved ones safe and protected from local pest populations.
Commercial Pest Control In Beachwood, OH
You deserve dependable pest protection for your Beachwood business, and we're here to help you. We provide complete commercial pest solutions to a long list of local facilities, some of which include food processing centers, hospitals, zoos, warehouses, restaurants, breweries, and medical offices. No matter your pest problem, you can count on us to find the solution. Our motto is 'minimum pesticides, maximum results.
As a Quality Pro Certified company, we hold ourselves to the highest standards. We're also proud to be Athena Powerlink Award winners, bringing our local community the absolute best pest protection around. With same-day services and a 100% satisfaction guarantee, you can feel confident knowing your business is in good hands. When it comes to pest control, there is no better way to go than Epcon Lane. Contact us today to learn more.
Four Helpful Flea & Tick Control Techniques For Beachwood Properties
Here in Beachwood, fleas and ticks are a year-round presence that property owners should be conscious of. Both of these parasitic, blood-sucking pests can transmit various diseases through their bites, which means everyone on your property is vulnerable. Here are four helpful tips for minimizing your exposure to fleas and ticks:
Shower yourself and your pets after spending time outdoors.

Treat your clothing with or buy clothing pre-treated with permethrin.

Use tick and flea repellents on the exterior of your home.

Wash and dry all clothing, bedding, linens, laundry, and upholstery on high heat.
If you suspect any flea or tick activity around your property, the best thing to do is rely on the experts. Call in the Epcon Lane team to address all of your flea and tick control and prevention needs. We will develop the appropriate treatment plan to fit your needs, and we guarantee continued flea and tick protection in Beachwood, OH you can depend on. Contact us today to get started.
What You Might Be Doing To Attract Mosquitoes To Your Yard In Beachwood
Mosquitoes are not a welcome presence in your Beachwood yard, but they're a reality many of us deal with. These dangerous vector pests can lead to serious health conditions, and you should take steps to prevent them at all costs. You may be wondering what it is that brought these parasites onto your property in the first place?
Mosquitoes prefer cool, damp areas, meaning vegetation throughout your yard is the perfect place for them. You'll find them near shrubs and bushes, and they also like tall grass and garden plants. Another major mosquito attractant to keep in mind is sources of standing water throughout your property. Most of a mosquito's life cycle occurs in water, which is why they seek out water sources and lay their eggs in them.
The best way to deal with mosquito activity around your yard is to rely on a team of qualified pest professionals. Reach out to the team at Epcon Lane to address all of your mosquito control and prevention needs. We are committed to providing quality pest protection that you can depend on moving forward.
Request A Free Quote
Complete the form below to request your free quote.